Monogramming Machines vs. Embroidery Machines
There's little difference between a commercial monogramming machine and a good commercial embroidery machine for sale. Monogramming is just a subset of Embroidery as a whole.
People use the word "monogramming" to describe what the machine will primarily be used for -Sleeves, Names, Cuffs, Backs of Hats, Lettering, etc.
That is why you will find ColDesi uses either term to describe the Avancé 1501C – a commercial embroidery machine for sale and/or monogramming machine.
You may find that some people refer to a smaller embroidery machine with fewer needles as a monogrammer. Still, there's no difference in the technology or limits to the application of either one.
But let's look at two embroidery jobs and two monogramming jobs and notice how they're different.
Example of Embroidery Jobs
Embroidery: Hip Pack Color Logo
This video shows a blank Hip Pack [fanny pack] being embroidered with the ColDesi Logo.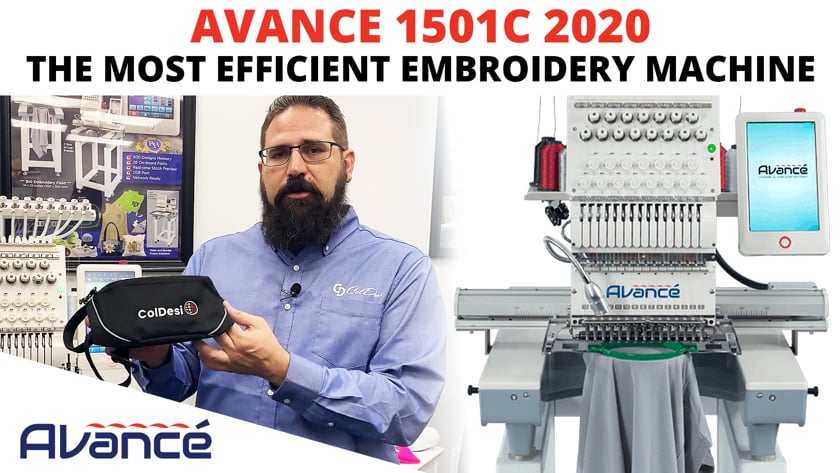 The Port Authority Hip Pack is a readily available blank, and embroidering a company logo on it makes it a trendy and profitable project.
Once you've put a logo onto one of these, the retail value goes up to between $10 and $15 each.
Embroidery: Multi-color Custom Patches
This embroidery project is much more complicated than the Hip Pack logo, but that complexity brings profits AND shows the advantages of a commercial multi-needle machine.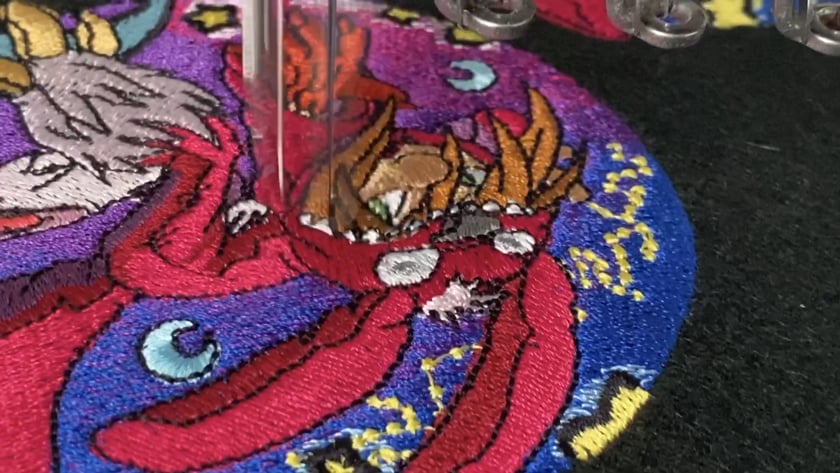 If you'll notice, this design features even more colors than the ColDesi logo design. And it has over twice the number of stitches.
Both are essential differentiation from traditional monogramming. Most monogramming machines are dedicated to simple three-letter, ONE color designs.
When you look at the two designs done for the examples above, it's pretty obvious that the number of colors and style of the designs is what separates them from traditional monogramming.
But the same machine that did those 2 is also the commercial Embroidery monogramming machine that sewed out the next two examples.
Example of Commercial Monogramming Jobs
The block lettering monogramming style you'll see in this video, "How to Embroidery Monograms on a Towel," is a more contemporary take on monogramming. But the basics are the same; 3 stylized letters.
[Learn more about the LONG history of monogramming here on Wikipedia]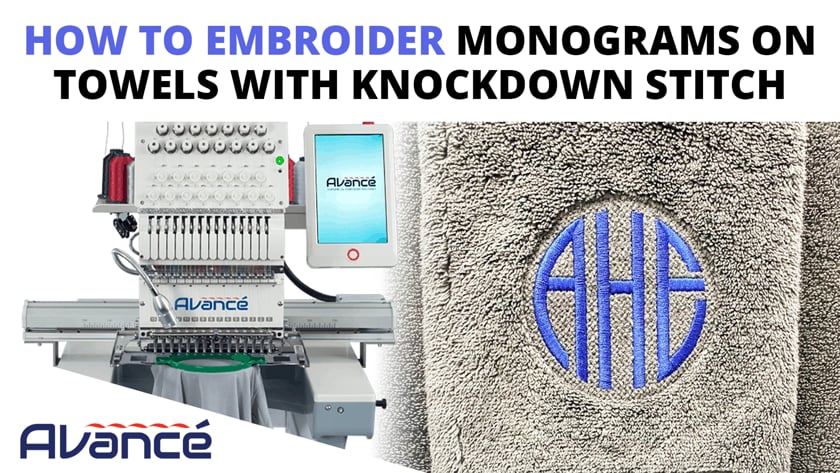 Towels, sheets, cuffs, and handkerchiefs are the traditional spots for monogramming, but these kinds of larger, more dramatic jacket monograms are very popular too.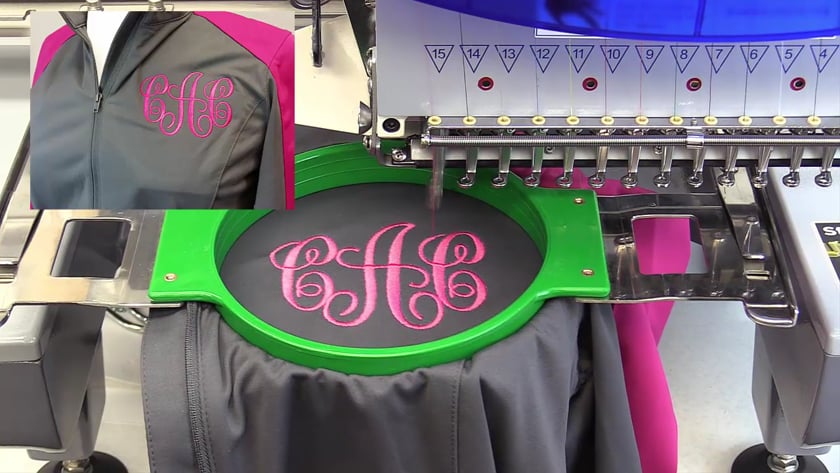 As you can see, two very different monograms.
But when you compare it to the processes of creating the custom hip pack and the custom patches in the first section, you see that:
Now that you've seen that there's no difference between what you need to make monograms vs. any embroidery design, let's see what makes a machine like the Avancé 1501C a "commercial" machine.
Commercial vs. Consumer Embroidery Machines
Consumer machines almost always have just a single needle. That, coupled with the lower price, makes them very attractive to startups who don't understand the reasons for multiple needles.
That's because most monograms are one color.
A single needle machine uses one color of thread at a time.
So it seems reasonable that that is enough.
A commercial embroidery monogramming machine will have FIFTEEN needles attached to 15 different color threads.
There are three main differences between consumer machines – made for hobbyists – and commercial machines made to power a monogramming business. And if you think of your home sewing machine, you'll start to understand the differences right away.
Why do you need so many colored thread spools and needles?
If you're making the occasional monogrammed pillow for friends and family, or even a 2 or 3 shirt order once a week, you probably don't.
But if you're in business or plan to be in business, you have to consider that you might have a dozen or more orders outstanding every day.
Imagine being in the monogramming business and getting 20 orders for four monogrammed hand towels: all different designs and all different COLORS. With a one-color machine, you're swapping cones and rethreading every time you start a new job.
And be honest, if you're a home embroiderer now – how long does it take you to do that? Can you imagine threading that needle eight times a day?
When you are a busy monogramming embroidery business, you don't have time to change threads every time you need to change colors or change jobs. Time is money, and single needle machines use a lot of it because of this limitation.
#2: Embroidery Field Size
Here's what you may not know yet. When you are selling your embroidery or monogram services, part of what you're charging for is the number of stitches.
You can learn more about how to price embroidery work in this article.
Single needle monogramming machines have a typical embroidery area of about 4" x 6". Even the ones that are dressed up like commercial monogramming machines only have a 6" or 8" x 12" field.
A machine-made machine like the Avancé 1501C 15 needle system has a 22"x 14" field size.
Why do you need a larger embroidery area?
Remember when we mentioned that most pro embroiderers charge by the number of stitches?
Simply put, a larger embroidery area means you can offer bigger designs with more stitches.
Bigger designs mean higher prices, and if you do it right, a LOT more profits from every job.
You get the added benefits of being able to offer things like: